Tiff and Sam
For Tiff and Sam
Be you.
Be you.
Be unapologetically you.
All your squares and contradictions,
with your growing parts and pieces
all at once all right here.
Be you.

Be Mom and Dad
and Young and Free.
back tattoos
and untamed hair.
Learn to dream through your worries,
and raise pit bull babies, too.

Hold a wedding
that's a concert,
or reunion,
or dance party.
Just invite them all to joy.
It's yours. Be you.

Have your nerves,
and your pizza,
have your friends,
and your space.
Have your bathrobe over bare feet,
or your weird socks with nice shoes.
have your sweat
and your joy
and your people
and your love.

Have all the cakes and eat them, too.

You know that presence walks with feeling,
just as love walks with loss,
just as faith walks with fear,
because living is all courage.

So be you.
Be you.
Be unapologetically you.
All you've been and you're becoming
all rolled up into one.

All you.

Love,
Meera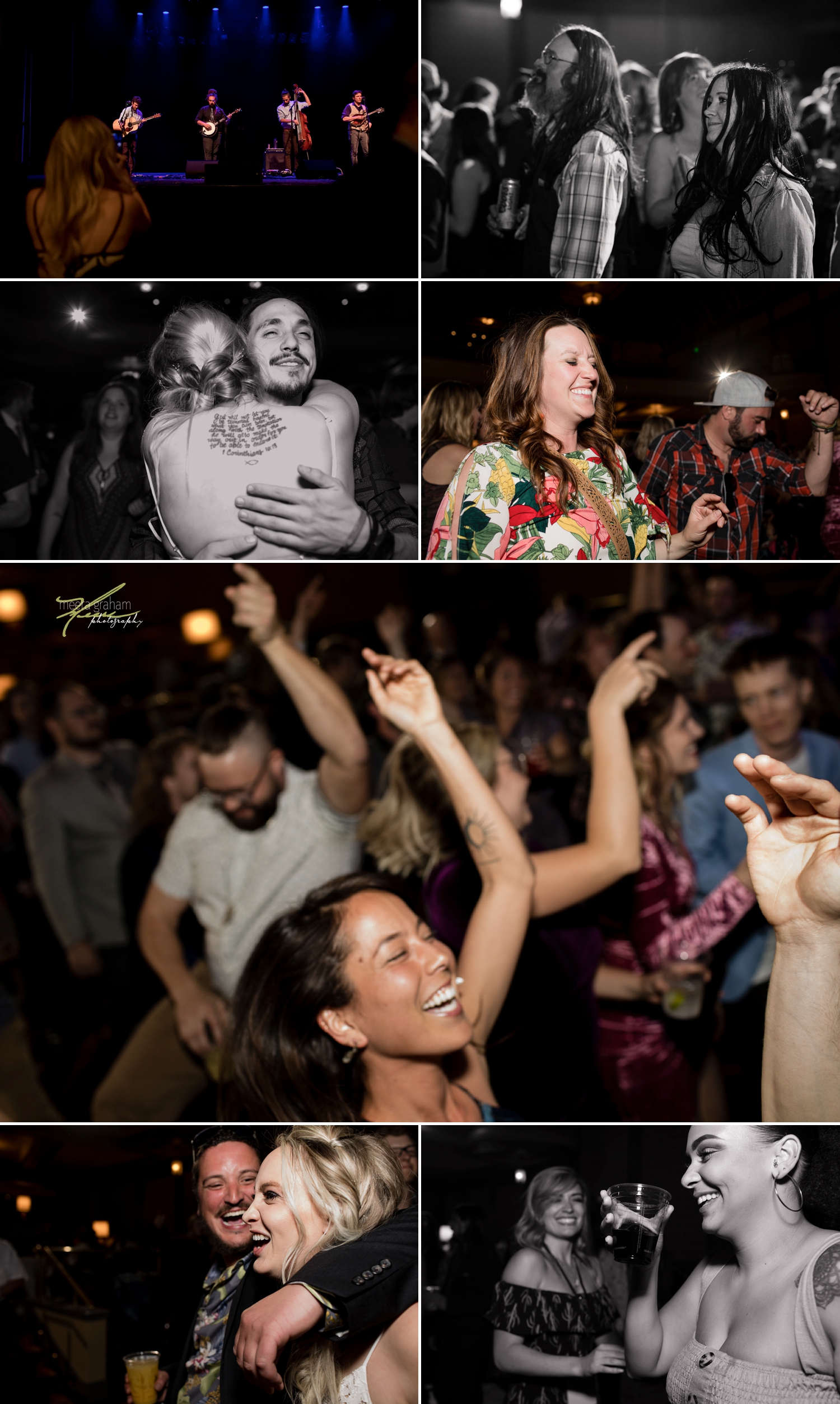 Sam and Tiff got married at The Wilma in Missoula, Montana. Concerts are a way of life for them - they've literally been to hundreds together and traveled thousands of miles, mostly to follow their obsession with - ahem, passion for - String Cheese Incident. Along the way, they've created an eclectic family made up of fellow concert-goers, friends from childhood and beyond, a couple of forever-young-at-heart pit bulls and blood relatives, too. In their relationship, they've already walked through grief and they've walked through evolving and they've walked through being apart and being together. They love their people and they love each other and they love to nurture - that's why their friends call them Mom and Dad.

They love each other like it's instinct, and they always have. I've written about them being soul mates. Every day in their home, they celebrate each other. So when it came to their wedding, they wanted to create something bigger than the two of them - a celebration of what they love and the community they love. That's why they rented the Wilma and threw a giant, full-blown (lights, sound, tech, all of it) Kitchen Dwellers concert for their friends.

I can't say this often enough: a wedding is what you want it to be. There is no should, no must. Celebrate who you are and what you value in whatever way feels truest to you…and you'll truly be honoring the lifetime you're committing to.
Meera Mohan-Graham is a documentary wedding photographer that seeks to disrupt the notion that photography (and life) needs to be "posed" or "perfect" in order to be worthy of exploration and capture. She creates work that focuses on exploring vulnerability, and centers the authentic stories, voices and identities of couples and their communities. You can routinely find her in Missoula, Montana - or traveling nationwide to support her people in their love and celebrations. As a QPOC woman, Meera is especially passionate about supporting the LGBTQ community, multiracial couples and members of other marginalized groups through the unique experience of standing up for radical love in today's society.