Dawson and Zajj
For Dawson and Zajj

Dawson looks at Zajj
like a soul that's unafraid
of the power, strength and courage
in the partner that he chose.

Zajj looks at Dawson
like a soul that's unafraid
of the joy, delight and laughter
in the partner that she chose.

And still…

Life unfolds its own way,
just like flight delays and mishaps,
just like puppy poop and cleanups,
or laughs that sound like music.

and Infinity holds magic,
just like paper cranes and rainbows,
just like art and math and wisdom,
just like friendship that endures.

See how…

your Friends have not forgotten
what it means to play like children
without rules or shame or walls
to confine the joy that binds us.

and You have not forgotten
what it means to speak love freely
without rules or shame or walls
to dissolve the gold that ties us.

You know that life's not perfect;
that it can't be, that it won't
and that's why you chase the meaning
in the smallest things you've got.

You know you've got each other,
and these good souls all around you,
and these trees, and trust, and music…

And I think that's all you need.

Love,
Meera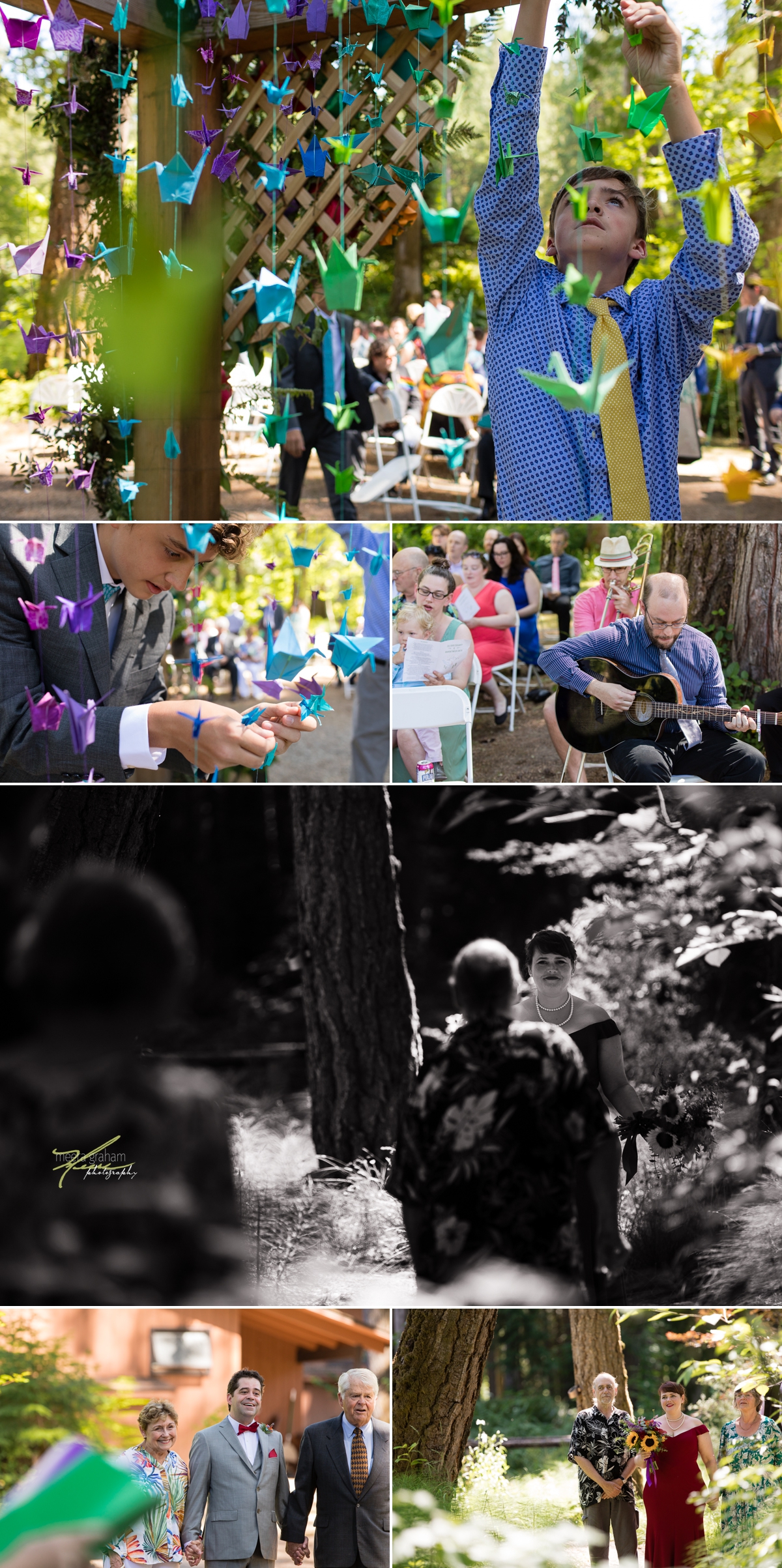 Though they currently live in the hustle and bustle of NYC, Zajj deeply loves the woods and trees of her home state of Oregon. She and Dawson knew that they wanted a community wedding - a chance for loved ones across their lives to gather together in celebration of relationship, love and connection - without the distractions of daily life. That's why they chose to gather at beautiful Loloma Lodge, right in the middle of Willamette National Forest, in Oregon.

This wedding was truly homegrown and co-created, with loved ones taking part in all aspects of the celebrations, from meal prep to cooking to hanging thousands of paper cranes (handmade by guests and by Zajj!) as decor. It can be hard to let go of the details, especially when the details have so much meaning, but at the end of the day, Dawson and Zajj did just that. They let go of the details and let go of their worries and managed to be completely present for every moment of their day. They managed to act in impromptu and unscripted ways, to keep their eyes open to discovery, and the unexpected, and the spontaneous. They managed to lean in to all that was perfectly imperfect about their wedding day, and in the end, that's exactly what makes a 'perfect' wedding.
Meera Mohan-Graham is a documentary wedding photographer that seeks to disrupt the notion that photography (and life) needs to be "posed" or "perfect" in order to be worthy of exploration and capture. She focuses on helping her couples explore their own vulnerability, and ultimately creates imagery that center the authentic stories, voices and identities of couples and their communities. You can routinely find her in Missoula, Montana - or traveling nationwide to support her people in their love and celebrations. As a QPOC woman, Meera is especially passionate about supporting the LGBTQ community, multiracial couples and members of other marginalized groups through the unique experience of standing up for radical love in today's society.